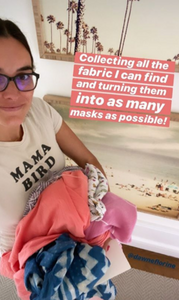 Masks (Fabric Donations)
JULY UPDATE: we are in need of more Cotton fabric to sew masks.
In March, we used anything and everything we could find to make masks. We we in a state of crisis and I knew that I had to sew masks, fast. I used baby swaddles to boyfriends t-shirts. This month (per factory request) we need to send them larger rolls of fabric.
If you would like to make a donation, we are buying fabric @ $3/yard.
10 yards makes 100 masks!
With this, I will source new fabrics, zero profit.
---
We Also Recommend
---